JOHN SANDERS
John Sanders received his black belt from Rodrigo Medeiros, who is 5th degree Black Belt under Carlson Gracie, Sr., in 2010. Professor John got his start in San Diego, California,John has been a competitor with the BJJ Revolution Team in San Diego since 1998 as part of the famed Pacific Beach Fight Center, and is currently one of the premier Brazilian Jiu-Jitsu professors in all of the northeast.
TONY McBEE
Tony is a former Military Police Officer with the US Air Force. When introduced to Thai kickboxing by Jason Golden, he discovered a training program that has made an incredible impact on his fitness and well-being.
Tony is the mastermind behind the strength and conditioning portion of the New England Brazilian Jiu-Jitsu Academy Thai Kickboxing class. His passion for Thai Kickboxing and Brazilian Jiu-Jitsu training is contagious, and makes him an excellent instructor/coach in both programs.
Muay Thai Kickboxing Black Belt

Muay Thai/MMA Instructor

Brazilian Jiu Jitsu Brown Belt

Brazilian Jiu Jitsu Instructor
ADRIAN MEADER
Adrian Served as an Infantry Squad Leader in the Army and is a combat veteran with 16 years of service. While in the Army, Adrian completed various instructor courses, such as the Total Army Instructor Training Course and Small Group Instructor Training.
Adrian has been training Brazilian Jiu-Jitsu since 2011 and is currently ranked as a purple belt under John Sanders. As one or our assistant instructors for our adutla dn children's programs, he has implemented his skills learned from the Army and the father of two to help guide each student to achieve their goals.
GEORGE LALIOTIS
George is life-long martial artist and has been teaching martial arts for over 10 years. He began training Brazilian Jiu-Jitsu in 2010 and never looked back. With a great grasp of technique and the ability to clearly transfer that information to students, George is a great asset to this Academy because of his enthusiasm, knowledge and abilities as an instructor.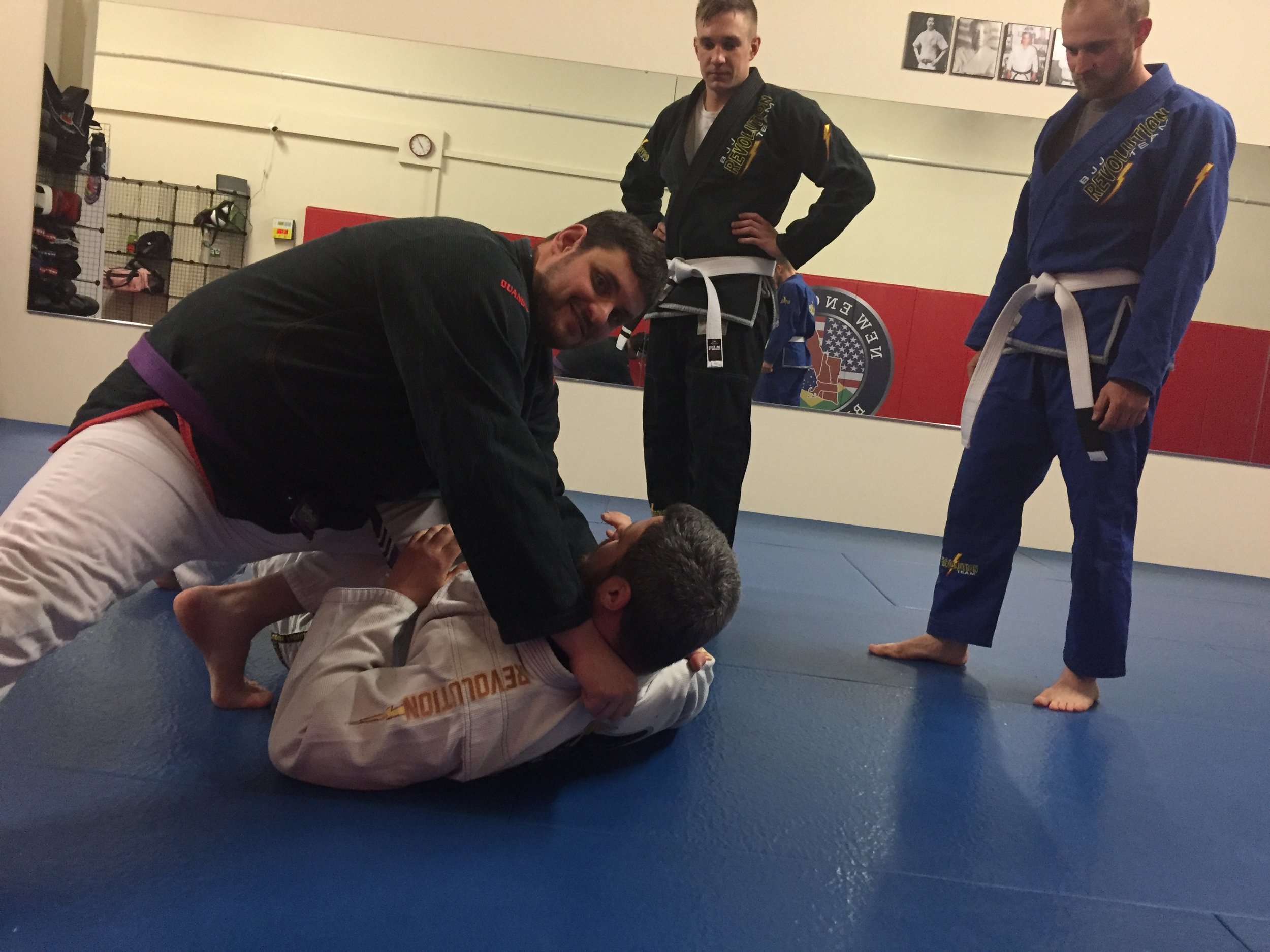 TIM LOCKE
Tim began training in 2008 with the BJJ Revolution Team under Matt Gomez, Anthony Sheridan, and now with Professor John Sanders. He initially began training in Brazilian Jiu-Jitsu for the self-defense aspect, but has continued to train and compete due to the camaraderie and community the art and sport of BJJ brings, and is exemplified at the New England BJJ Academy. Tim's methodical approach to BJJ makes him an excellent competitor on the mats, which also shows through in his creativity as a practitioner.
When Tim isn't training he is a father of two and enjoys spending time with his family.
JILLIAN COTE
Jillian started her martial arts journey back in 2009. She was looking for a new form of exercise as the normal gym was getting a little too boring and she wasn't getting very much out of it. She wanted to challenge herself both mentally and physically. She first started studying Muay Thai kickboxing as it was a familiar martial art to her and really enjoyed it. But soon she realized the beauty and practicality of the art of Brazilian Jiu-Jitsu and was hooked. In 2011, Jillian was diagnosed with Multiple Sclerosis and feels that if it wasn't for her martial arts training and the support from her team, she might not be as active and healthy as she is. Jillian still practices both arts and holds a purple belt in Brazilian Jiu-Jitsu.